News and Events
The Road Ahead: The Next Generation of Mobility Regional Event


Wednesday, May 3, 2017
12:00 pm to 3:30 pm
Virginia Tech Transportation Institute
3500 Transportation Research Drive
Blacksburg, VA 24061
Kindly RSVP no later than Wednesday, April 26, 2017, by registering here.
The Intelligent Transportation Society of America (ITS America), in partnership with the Office of the Virginia Secretary of Technology, cordially invites you to attend a "The Road Ahead: The Next Generation of Mobility" regional event at Virginia Tech Transportation Institute (VTTI) on May 3, 2017.
By attending the event, local and state policymakers as well as other stakeholders will have the unique opportunity to view and experience transformational and intelligent transportation systems at work and to learn from the researchers who are developing these technologies.
If you have any questions about this event, please contact Jason Goldman, ITS America VP for External Affairs and Stakeholder Engagement, at 202-721-4212 or via email atjgoldman@itsa.org.



Virginia Community College Students Collect Data for NASA Using Unmanned Aircraft Systems (UAS)
Thirteen students from five Virginia Community Colleges can now add unmanned aircraft systems (UAS) and NASA to their resumes thanks to their work on a sea level rise study for NASA Wallops Flight Facility on Virginia's Eastern Shore. The students recently completed four-days of fieldwork at NASA Wallops in which they planned and conducted UAS missions, analyzed data, and prepared a report for NASA.
The Flying Circus FPV Festival
May 19-22, 2016 - Covington, VA
The Flying Circus FPV Festival incorporates open flying and racing for quads and planes as well as various contests. This event is for FPV flyer's and enthusiasts of all ages. Bring your gear and prepare to mingle with amazing sponsors and great flyers. We expect to have a great time at our new event location in Covington, Virginia utilizing the local area waterfalls, tunnel bridge, and underground mine for flying fun.View more about this event
Hampton Roads Unmanned Systems Opportunity Exchange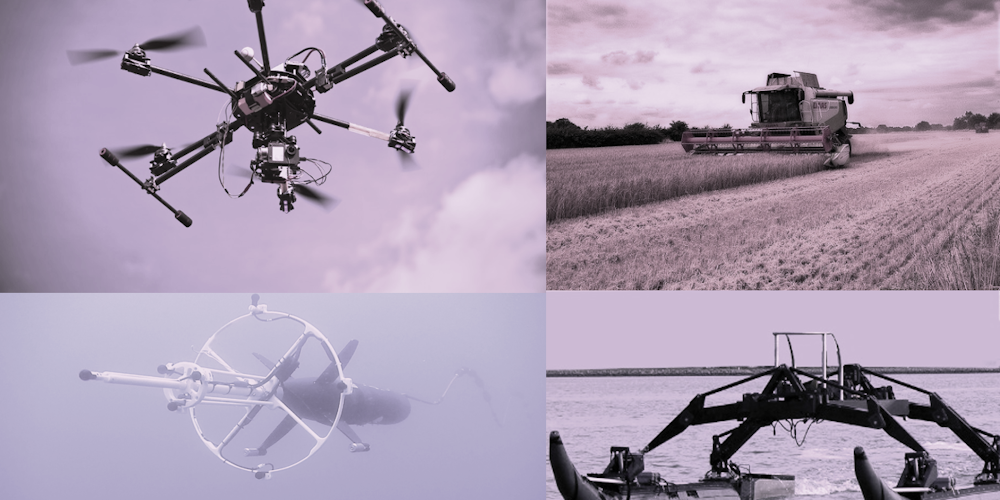 April 22, 2016
Presented by the Hampton Roads Unmanned Systems Consortium. Discussions involving regulation, market entry, UMS testing, technology and innovation, and workforce. View more about this event
Aurora moves forward with project to develop unmanned resupply helicopter
December 14, 2015
U.S. Navy unmanned vehicle experts are moving forward with a project to develop an unmanned helicopter for delivering and picking up cargo and equipment under fire on forward-edges of the battlefield. Officials of the Office of Naval Research (ONR) in Arlington, Va., announced an $11.2 million contract modification to Aurora Flight Sciences in Manassas, Va., to support flight testing for the Autonomous Aerial Cargo I Utility System (AACUS) program.
---
Warner Praises FAA Decision to Expand Unmanned Aircraft Testing Program to Include Airports
October 8, 2015
U.S. Sen. Mark R. Warner (D-VA) praised the Federal Aviation Administration's (FAA) announcement that it will expand the Pathfinder Program – a public-private partnership to explore ways for unmanned aircraft systems (UAS) to operate safely in the U.S. – to include sensitive airport airspace. Senator Warner previously called on the FAA to develop a pilot project at an American airport to coordinate and interrelate UAS mitigation technology with an airport system to determine best practices.
---
First ever drone delivery in the US takes place in Virginia!
(Image Credit: Virginia Tech)
Wise County, Virginia - July 19, 2015
Virginia was home to yet another historic milestone on Friday. For the first time ever in the United States, an unmanned aerial vehicle took off from Lonesome Pine Airport in Wise County and flew 0.7 miles to deliver the package of medical supplies to the Remote Area Medical (RAM) clinic. The package was lowered down to the ground via a tether, where it was retreived by Virgina Governor Terry McAuliffe.
The FAA-approved operation was overseen by the Mid-Atlantic Aviation Partnership at Virginia Tech, and witnessed by government dignitaries and worldwide news media, along with the thousands in attendence at the RAM clinic, many of whom drew comparisons of this event to the "Kitty Hawk" moment of the early 1900s. While this was a huge and exciting step towards the future of unmanned technology, it is only the beginning for Virginia's UMS industry!
---
TIME Magazine - Virginia Becoming a Self-Driving Car Haven
June 3, 2015
TIME Magazine reporter Ben Geier cites a recent Richmond Times-Dispatch article as evidence of Virginia becoming the leading destination for the driverless car industry.
Unmanned Systems News
April 2nd, 2016
Drones to descend on Northern Virginia
February 2, 2016
11th Annual Aerospace Day Highlights $7.6B Industry in Virginia
January 31, 2016
Unmanned vehicle chapter being formed to promote region
January 27, 2016
Virginia primed to beat Silicon Valley
December 14, 2015
FAA Announces Small UAS Registration Rule
December 8, 2015
MAAP and the Omnicon Group to expand unmanned aircraft testing and certification
October 19, 2015
Germanna launching drone training for commercial applications
October 19, 2015
Virginia Tech Transportation Institute, partners test automated, connected vehicles on interstate
July 23, 2015
Dominion to launch drones to inspect transmission lines
July 22, 2015
7 green drone companies (and counting) cleared for takeoff
July 21, 2015
Clinic gets approved medical supply drop by drone in Virginia
July 20, 2015
First UAS delivery drops medicine in Virginia
July 20, 2015
Drone Delivers Medicine In Virginia
July 20, 2015
First FAA-approved drone delivery takes medicine to rural Virginia
July 19, 2015
Virginia Tech coordinates research flights to advance unmanned aircraft delivery of medical supplies
July 17, 2015
Virginia Tech, Flirtey Kick Off UAS Delivery System Tests in Virginia
July 15, 2015
Wise Co. wants drone industry to take off, grow economy
July 10, 2015
Let's Fly Wisely Event Deploying UAS to Deliver Medical Supplies
July 3, 2015
Drones to deliver medicine to rural Virginia field hospital
June 24, 2015
Drones were thought to be a 'pipedream,' Guagdagno says at airport testing site
June 24, 2015
Latest Developments in UAS integration
June 24, 2015
In 1956, here's how GM imagined the self-driving car would work
June 22, 2015
Southwest Virginia growing drone industry
June 22, 2015
Drones eyed for economic, medical impact in SW Va.
June 20, 2015
Drone test flights cleared for less complicated takeoffs
June 18, 2015
Mid-Atlantic Aviation Partnership advances efforts to use unmanned aircraft for utility inspections
June 16, 2015
What's holding up driverless cars?
June 16, 2015
New class teaching drone technology
June 16, 2015
Unmanned aircraft test flights to detect mock pipeline hazards
June 16, 2015
Drones: Where do we go from here?
June 16, 2015
Researchers advance Unmanned Aircraft industry with test flights to detect mock pipeline hazards
June 15, 2015
Quoted: on the slow road to truly driverless cars
June 14, 2015
Stafford's job growth rate is tops in Virginia
June 13, 2015
Warner applauds Virginia Unmanned Systems Commission
June 12, 2015
Governor McAuliffe signs Executive Order 43 launching Unmanned Systems Commission
June 11, 2015
Virginia Tech Transportation Institute demos automated car
June 11, 2015
Aeroprobe sensor package improves UAV flight, endurance time
June 9, 2015
Look Ma – no hands! Self-driving cars can now roam Virginia highways
June 9, 2015
Commonwealth of Virginia Welcomes Autonomous Cars on its Roads
June 3, 2015
This State Is Becoming a Self-Driving Car Haven
June 3, 2015
Driverless cars coming to Virginia: McAuliffe announces development initiative
June 2, 2015
Drone use for agriculture a growing field
June 2, 2015
Google self-driving cars to travel Va. highways
June 2, 2015
Virginia a leader in Automated Vehicle Technology
May 29, 2015
Hundreds of Drones Approved as FAA Eases Limits
May 27, 2015
Unmanned Aircraft Test Site Expects New FAA Policy to Speed Research
Jan 19, 2015
Va. lawmakers seek to restrict drones, including even hobbyists
Jan 16, 2015
News Media Coalition to test sUAS at Virginia Tech's Test Site
MAAP News
August 24, 2015
Unmanned aircraft system test site to host public meeting to discuss progress
July 17, 2015
Medical drone makes house calls in the remote mountains of Virginia
July 17, 2015
First FAA-Approved Drone Delivery Drops Medicine in Virginia
July 17, 2015
Gov. Terry McAuliffe, President Timothy D. Sands observe unmanned aircraft transport medications at research flights
July 15, 2015
Drone Drug Delivery Flights Add International Research Element to Health Outreach
July 14, 2015
UAS Avoidance Capability Tested at Cape May Airport
July 12, 2015
The Mid-Atlantic Aviation Partnership Gears Up (part of UAV Digest podcast)
July 1, 2015
Drones to Deliver Medicine to Rural Virginia Field Hospital
June 17, 2015
Major Media Companies Unite to Test 'News Drones'
June 16, 2015
Researchers Advance Unmanned Aircraft Industry With Test Flights to Detect Mock Pipleline Hazards
June 12, 2015
Governor McAuliffe Signs Executive Order Launching Unmanned Systems Commission
May 27, 2015
Drones Can Now Get in the Air with Fewer Restrictions
May 11, 2015
Senator Mark Warner Concerned About 'Rogue' Drones
March 26, 2015
MAAP Conducts UAS Test Flight for Pipeline Inspection
March 23, 2015
Researchers Use Unmanned Aircraft to Inspect Energy Pipeline Route
February 6, 2015
STEM, UAS Draw Big Attention at Aerospace Day
February 6, 2015
When Will Local Drone Journalism Get Off the Ground?
February 5, 2015
Researchers to Begin Work with News Organizations in an Effort to Advance Aerial Journalism
January 26, 2015
Fusion Joins News Media Coalition to Test Small News Drones at FAA Test Site
January 15, 2015
Ten News Outlets to Test Drones for Journalism
December 8, 2014
Aerosonde® SUAS Receives FAA Certificate of Authorization for National Airspace
November 19, 2014
State First Responders Eyeing Uses of Unmanned Aircraft in Emergencies
November 19, 2014
Va. First Responders Eyeing Uses of 'Drones' in Emergencies
October 1, 2014
Virginia Tech Lends Drones to Search for Hannah Graham
August 18, 2014
MAAP Unmanned Aerial Test Site at Virginia Tech Fully Operational by FAA
July 2014
MAAP Mention in Rutgers Insights Magazine
July 10, 2014
Voice of America visits the MAAP – Virginia Site Tests Drones for FAA Rules
June 18, 2014
Unmanned Test Site Winners Pledge Cooperation
April 22, 2014
Industry Leader in Unmanned Aircraft Systems to Helm New FAA-Approved Test Site
September 27, 2013
Virginia, New Jersey, Maryland join to Support FAA Unmanned Aircraft Systems Effort.
August 13, 2013
States Vie for Test Sites As FAA Prepares U.S. Airspace For Thousands of Drones
2015 Cyber Security - Unmanned Systems Showcase Presentations
Major League Hacking
Major League Hacking (MHL) is the official student hackathon league. View events and competitions near you and test your hacking skills.